Smiles By Julia is a Fort Lauderdale based family dentist practice that treats patients of all ages. We are committed to delivering the highest quality dental care and do so using state-of-the-art dental equipment. We are a cosmetic dentist that offers services like checkups, teeth cleaning, crowns, veneers and more.
---
We also perform emergency dentist services that include bonding, root canals, crowns, and bridges. As a local dentist, we create lifelong relationships with our patients and their families and work to ensure that they receive treatments in a comfortable and relaxed environment. Dr. Neuls and our staff invite you to schedule an appointment by calling 954-281-1231 and experience why our patients think Smiles By Julia is the best dentist in Fort Lauderdale.
---
Meet The Doctors
---
Dr. Julia Williams Neuls
Dr. Julia Williams Neuls was born here in South Florida. Prior to dental school, she attended St. Thomas Aquinas High School and then Florida State University. She is a graduate of Virginia Commonwealth University School of Dentistry.
Dr. Neuls enhances her skills and knowledge through continuing education and membership in professional organizations. She has received her fellowship from the Academy of General Dentistry and is also a graduate of The Hornbrook Group, Pride Institute and Las Vegas Institute. Dr. Neuls is also an active member of the American Dental Association, Florida Dental Association, Academy of General Dentistry, Broward County Dental Association and the Atlantic Coast Dental Association.  Dr. Neuls is a Northeast Regional Board Examiner, grading students pursuing a dental license in the state of Florida.
Dr. Neuls and her husband reside in Fort Lauderdale, where they enjoy spending time with their two children, Piper and Skyler.
Dr. Federico J. Perez
Doctor of Dental Surgery
Dr. Federico Perez was born and raised in the city of Santiago in the Dominican Republic. From a young age he knew he wanted to become a dentist and follow the steps of both of his parents who are also dentists. After graduating dental school Cum Laude at the Pontifical Catholic University Mother and Teacher, he became a professor at his alma mater and shared a practice with his mother for 2 years. Dr. Perez eventually moved to the United States, where he attended dental school at Boston University's School of Dental Medicine. After practicing in Boston for over 2 years he is now residing in Florida to be closer to family and friends. Dr. Perez is a member of the American Dental Association and American Academy of Endodontics. He is a minimally invasive dentist, is Invisalign certified, and has extensive training and experience in all aspects of general and cosmetic dentistry. Dr. Perez is fluent in English, Spanish and Portuguese.
Meet Our Team
---
Norma
Office Manager
Norma joined the Practice in January, 2013. She graduated from Luis Munoz Rivera High School in Puerto Rico. Norma attended the University of Puerto Rico, receiving her Associate Degree in Secreterial Sciences and Office Management. She has sixteen years secretarial and administrative experience in the medical field. Norma is bilingual, fluent in both Spanish and English. As the patient liaison for Dr. Neuls, she schedules appointments, coordinates patient benefits and handles all billing and financial matters. Norma cares for her patients and loves providing the help they need.
Alexandria
Front Desk
Alexandria is a graduate of South Miami Senior High School. She has worked in the dental field since 2015 as both patient care coordinator and patient outreach coordinator. Alexandria has also scheduled and attended health fair events, promoting the importance of oral hygiene. She like to help her husband work on cars in her free time and will proudly show you a picture of her pet tortoise! Alexandria is fluent in English and Spanish and strives to always meet every patient's need.
Ginger
Dental Hygienist
Ginger joined the Practice in January, 2015. She is a graduate from Fort Lauderdale High School. Ginger attended Florida Southern College before receiving her B.S. in Dental Hygiene from Loyola University. She has extensive hygiene experience in the specialty areas of Periodontics, Orthodontics, Epidemiology and preventive dental care. Her work has had international acceptance, affording her the opportunity to work in Switzerland and Saudi Arabia. Ginger proudly maintains her high dental care standards through her vast experience.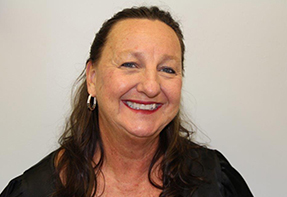 Marie
Dental Assistant
Marie joined the practice June 2015. She is a graduate of Northeastern-Tufts Dental Assistant Program in Boston, where she has received most of her 35 plus years of experience. Marie also has experience assisting in Prosthodontics and Orthodontics, and already has left a great impression on her colleagues and patients.
Sara
Dental Assistant
Sara has been a Dental Assistant for over 30 years and has worked with Dr. Neuls since 2007. She graduated from George Washington High School in New York City, New York and then attended City College of New York. She received her Bachelor of Arts degree at Ashford University. Sara is bilingual, fluent in both Spanish and English. Sara strives to do everything possible to make sure all the patients are comfortable and taken care of when they are here.
Tammy
Accountant
Tammy has been working with Dr. Neuls for seven years. She is also a South Florida native and graduated from Harrigan High School in Hialeah. She is a registered tax preparer for the Internal Revenue Service and has been in the accounting field for 30 years. She is in charge of the office budget, bank account and all accounts payable.
Kathy
Dental Hygienist
Kathy has been working with Dr. Neuls since August, 2002. She graduated from Monsignor Edward Pace High School in Miami, Florida. She attended Miami-Dade Medical for Dental Hygiene. She also received her B.A. degree in Psychology from Florida Atlantic University. Kathy is bilingual, fluent in both Spanish and English. She takes pride in being able to provide excellent dental hygiene care while having fun and making her patients' experience as pleasant as possible.