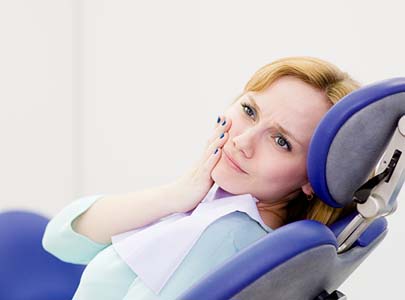 While no one wants to be in a position where they require the services of an emergency dentist, it is important to have an emergency dentist available when an accident does occur. While some dental emergencies may be minimally painful, others can be extremely painful. Since it can be difficult to know exactly what to do when a dental emergency occurs, having a plan in place is highly recommended.
This plan can include making sure a first aid kit is always handy, as well as having your dentist's emergency phone number on your cell phone. Being prepared for a potential dental emergency can save precious time.
Five reasons patients need an emergency dentist
There are many types of dental emergencies, with some of them being more common than others. The following are five reasons for why a dental patient may be in need of emergency dental services.
1. They broke or knocked out a tooth
In this situation, any broken tooth pieces that can be saved should be put in a glass of milk. If the whole tooth is knocked out, the preferred option is to put it back into the socket until you can get to the dentist office.
2. They are experiencing constant or unbearable oral pain
Dental pain is no joke, making a trip to the dentist indeed necessary for pain relief. The dentist will be able to find the cause of the pain, giving the patient the relief they seek.
3. They are not able to control oral bleeding
Whether the bleeding is due to a recent dental procedure or something else, if there is uncontrollable bleeding, then a trip to the emergency dentist is a must. The individual needs to apply gentle yet firm pressure to the bleeding area until the appointment.
4. Their dental crown fell off
While not everyone experiences pain when their crown falls off, some do. The individual can apply a small amount of petroleum jelly as a temporary seal to the inside of the crown and put it back on until he or she can see a dentist
5. They bit their tongue or split their lip open
If the wounds in these two areas are deep, jagged or gaping, a trip to an emergency dental clinic is a good choice. Putting gentle pressure on the area is an effective method for providing a small amount of relief. If bleeding occurs and does not stop after about 10 minutes, an emergency phone call to the dentist is recommended.
Smiles by Julia
Our expert dental team completely understands that a dental emergency can occur at any given moment, requiring the services of an emergency dentist. We encourage all of our patients to contact us as soon as possible if a dental emergency ever occurs in order to find out what their next step is. We care about our patients, and always want them to feel that they can call us whenever they are in need of professional dental services.
Contact us now with any questions you have regarding our emergency dental services.
---
Related Posts
March 16, 2018
A dental abscess is the result of an infection and can form inside the gums, teeth and even in the bone that holds the teeth in place. A dental abscess is the accumulation of infection …
---